Top of the Park Culinary Team
The Culinary Experts of Red Shores
Executive Chef Andrew Smith
Chef Andrew Smith has been leading the Kitchen team at Red Shores Racetrack and Casino since October 2012. Born and raised in PEI, Andrew has made his home with his wife, Meredith, and son, Aidan, in North Winsloe amongst his family roots.
He began his formal training in 2004 at the Culinary Institute of Canada. After graduation, Andrew accepted a position with Delta Hotels and Resorts and ventured across the country to the Rocky Mountains of Kananaskis. Two years later, he was offered a position with the Delta Prince Edward, giving him the option to come back home. It wasn't a hard decision for Andrew to return to the Island and continue his culinary career.
In 2007, Andrew was offered a position at the Dayboat Restaurant, in Oyster Bed Bridge. Working at Dayboat gave Andrew the opportunity to learn new techniques and work with local farmers and product. After the 2008 season at Dayboat, Andrew returned to Delta Prince Edward eventually making his way into the banquet kitchen as Sous Chef. Andrew continued to grow in this position, learning many different styles to suit the needs of every group. Whether it was an intimate dinner for 10, a plated dinner for 500 or an offsite party at the beach, Andrew thrived in this position as he faced the challenges with confidence.
In 2012, after spending three years as Sous Chef at Delta Prince Edward, Andrew left his position to take on the role of Executive Chef for Red Shores. Since joining the team, Chef Andrew and his team have received awards in the local culinary community such as Best Dessert 2013 at Savour Food and Wine Show and Runner Up in Taste the Island 2013.
Having developed a passion and interest in cooking in his teen years, Chef Andrew's creativity and desire to achieve culinary excellence continues to fuel his efforts as an important part of the team at Red Shores Racetrack and Casino.
Andrew was recently recognized as the 2019 Chef of the Year, as voted by his peers from the Prince Edward Island Association of Chefs and Cooks. This award is in recognition of Andrew's contributions and dedication to the culinary industry on PEI.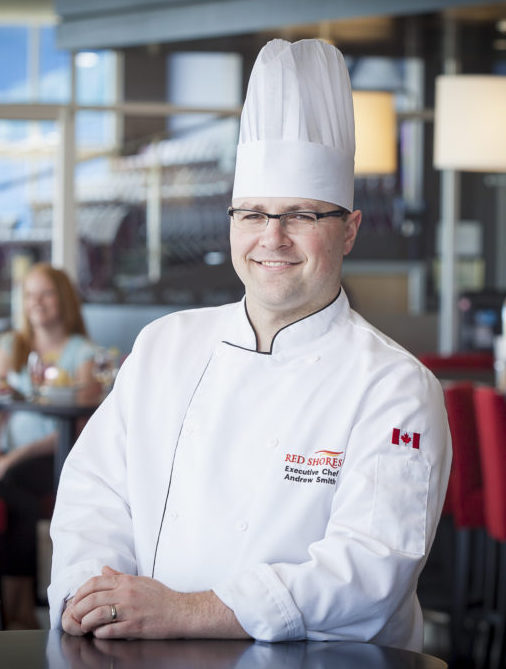 Pastry Chef Amelia Howards
Amelia started cultivating both her sweet tooth, and her love of cooking at a young age. A career as a pastry chef might have seemed like a no-brainer, but she bounced from studying Fine Art and Art History to Graphic Design to Digital Media before finally landing in the Culinary Arts Program at the Culinary Institute of Canada in 2005.
After graduating from the Culinary Institute in 2009 with a diploma in Culinary Arts, and an Applied Degree in Culinary Operations, Amelia went on to work at several Charlottetown restaurants, including Flex Mussels and The Dundee Arms Inn. Her sugar crush blossomed into a full-blown love affair, and she accepted her first position as Pastry Chef at Dalvay-by-the-Sea, where she worked for the 2012 summer season.
Amelia joined the Red Shores team as Pastry Chef in the fall of 2012 and has been satisfying Charlottetown's sweet tooth ever since. She brought home the award for "Best Dessert" by popular vote at the 2012 Savour Food & Wine Show, maintaining Red Shores' 5 year winning streak! Amelia is looking forward to more opportunities to showcase her skills, and encourages everyone to come and experience the sugar high at Top of the Park.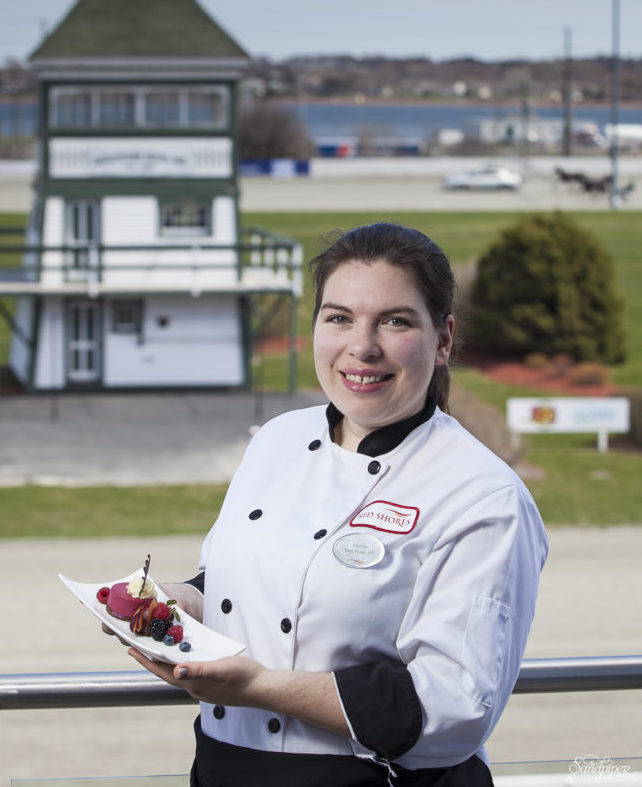 Red Shores ©2006-2023. All rights reserved.
You must be 19+ to purchase, play or redeem ALC products.