Check out our other restaurant options
Meet our Chef + Culinary Team
Turf's Bar & Grill restaurant is now open Thursday & Saturday evenings during Live Racing events, with limited seating as outlined by the Chief Public Health Office. We will be offering a limited, fixed price menu, and seatings will be available by reservation only. To make your reservation, call 902-620-4264. Reservation Desk hours will be Monday – Friday from 10am-4pm.
Turf's Bar & Grill Menu – Thursday, July 2nd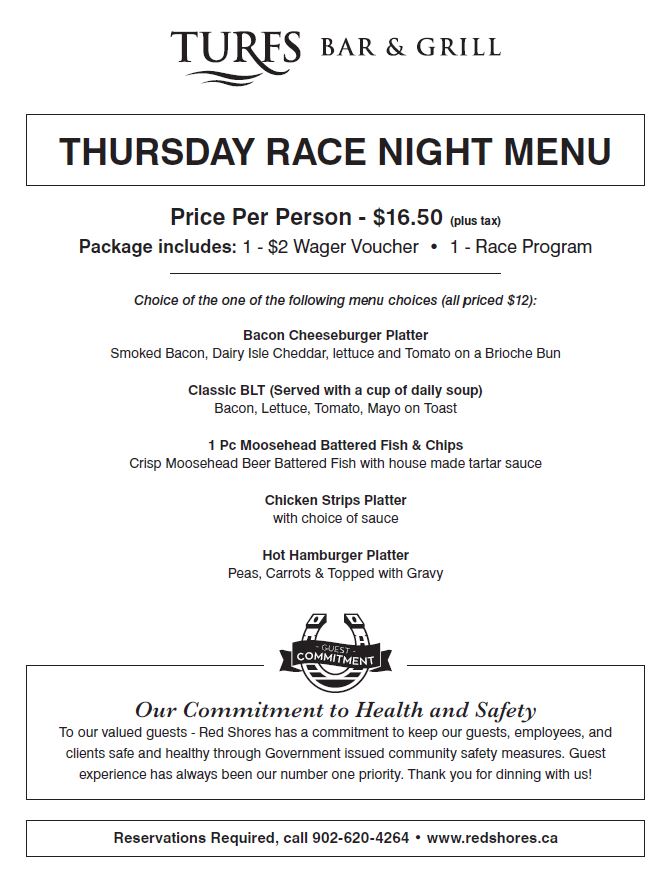 Turf's Bar & Grill Menu for Saturday, July 4th – Coming Soon
Turf's Bar & Grill Dining Information
Reservations only, no walk-ins – Call 902-620-4264

Reservations begin at 5:15pm
Reservation Desk Hours: Monday – Friday 10:00am-4:00pm

Turf's Bar & Grill

Thursday Nights

$16.50 plus tax | Fixed price menu – Includes $2 Wagering Voucher, Race Program and your choice of one menu item (menu above)

Saturday Nights

$21.95 plus tax | Fixed price menu – Choice of one (1) Entrée and one (1) dessert

Menu will be updated on a weekly basis, featuring a selection of Red Shores signature dishes made with fresh local ingredients 


Red Shores ©2006-2019. All rights reserved.
You must be 19+ to purchase, play or redeem ALC products.