Sign up for our newsletter
Live Racing at Red Shores
Virtual Tack Room Episodes
Our Harness Racing Family has come together as we stay apart – These broadcasts feature special guests, racing memories, great conversations and more! Click here to view all previous broadcast episodes.
Live Streaming presented by Red Shores at Summerside and Charlottetown in partnership with Bell Aliant.
Fans from around the world will have access to the harness racing action from Prince Edward Island when Red Shores and telecommunications giant Bell Aliant team up to stream live events at Red Shores Racetrack & Casino at the legendary Charlottetown Driving Park and from Red Shores at the historic Summerside Raceway. The live streaming broadcasts begin approximately 15 minutes prior to first race Post Time.
The Bell Aliant Race Day team includes Lee Drake, Vance Cameron, Peter MacPhee, Kurt Hughes and Rocky Schurman.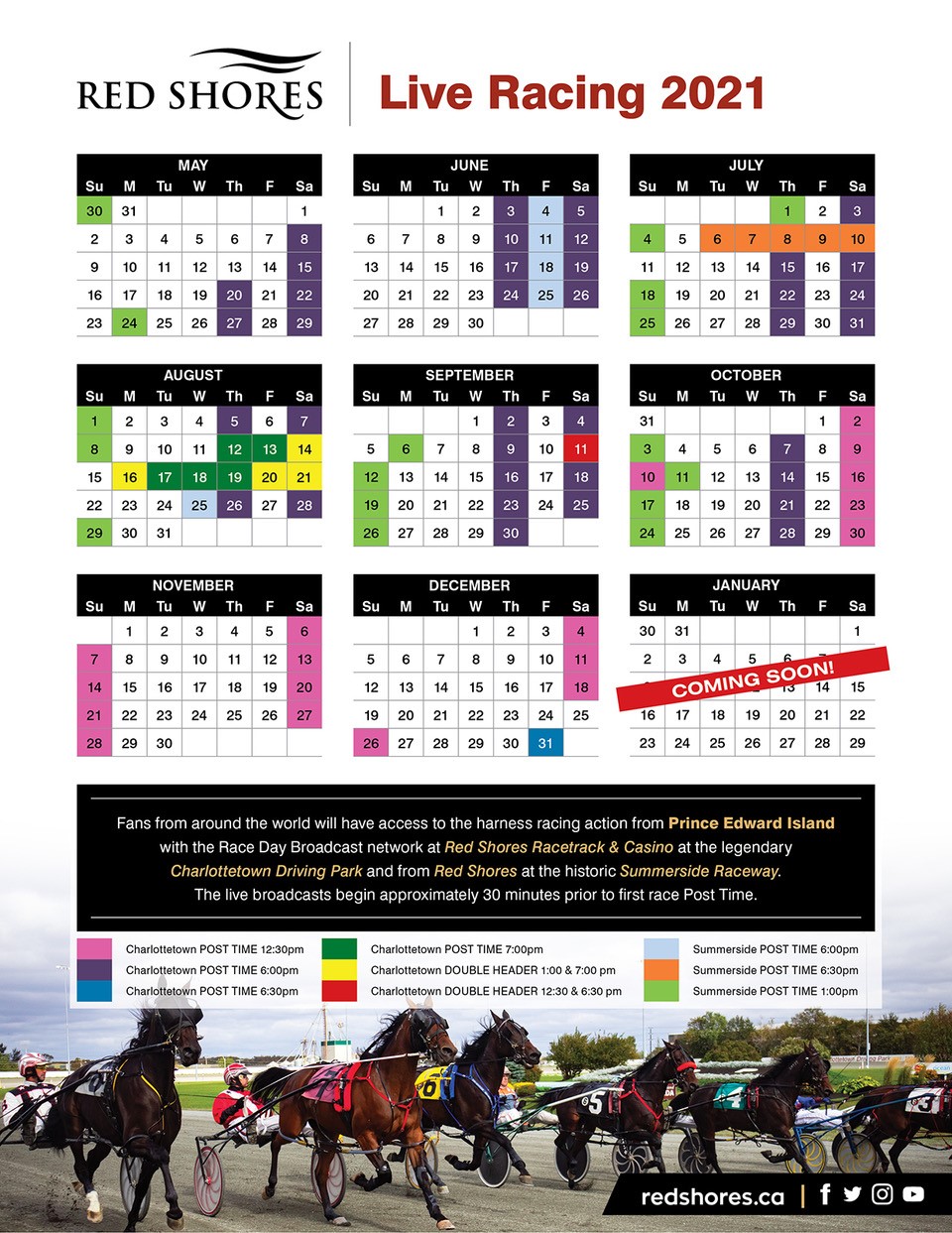 RACE OFFICE WINTER HOURS 
Tuesday - Friday: 8:30am - 4pm
Learn more
RACE OFFICE HOURS
Monday - Friday: 8am - 4pm
RACE DAY IN CHARLOTTETOWN
3 hours prior to post time
RACE DAY IN SUMMERSIDE
2 hours prior to post time
Red Shores Racetrack & Casino at Charlottetown Driving Park
CDP - Est. 1888
58 Kensington Road
(attached to Eastlink Centre)
Charlottetown, Prince Edward Island
Canada
Phone: 902-629-6634
Phone: 902-629-6636
Red Shores at Summerside
SRW - Est. 1886
55 Greenwood Drive
(attached to Credit Union Place)
Summerside, Prince Edward Island
Canada
Phone: 902-894-9919
Race Day Phone: 902-888-5666 ext. 4118
Please note the Standardbred Canada Representative will not be available during the Monday-Friday hours and is on-site during Race Days only.
All stake payments, transfers, memberships can be completed online or by calling Standardbred Canada directly.


Red Shores ©2006-2021. All rights reserved.
You must be 19+ to purchase, play or redeem ALC products.