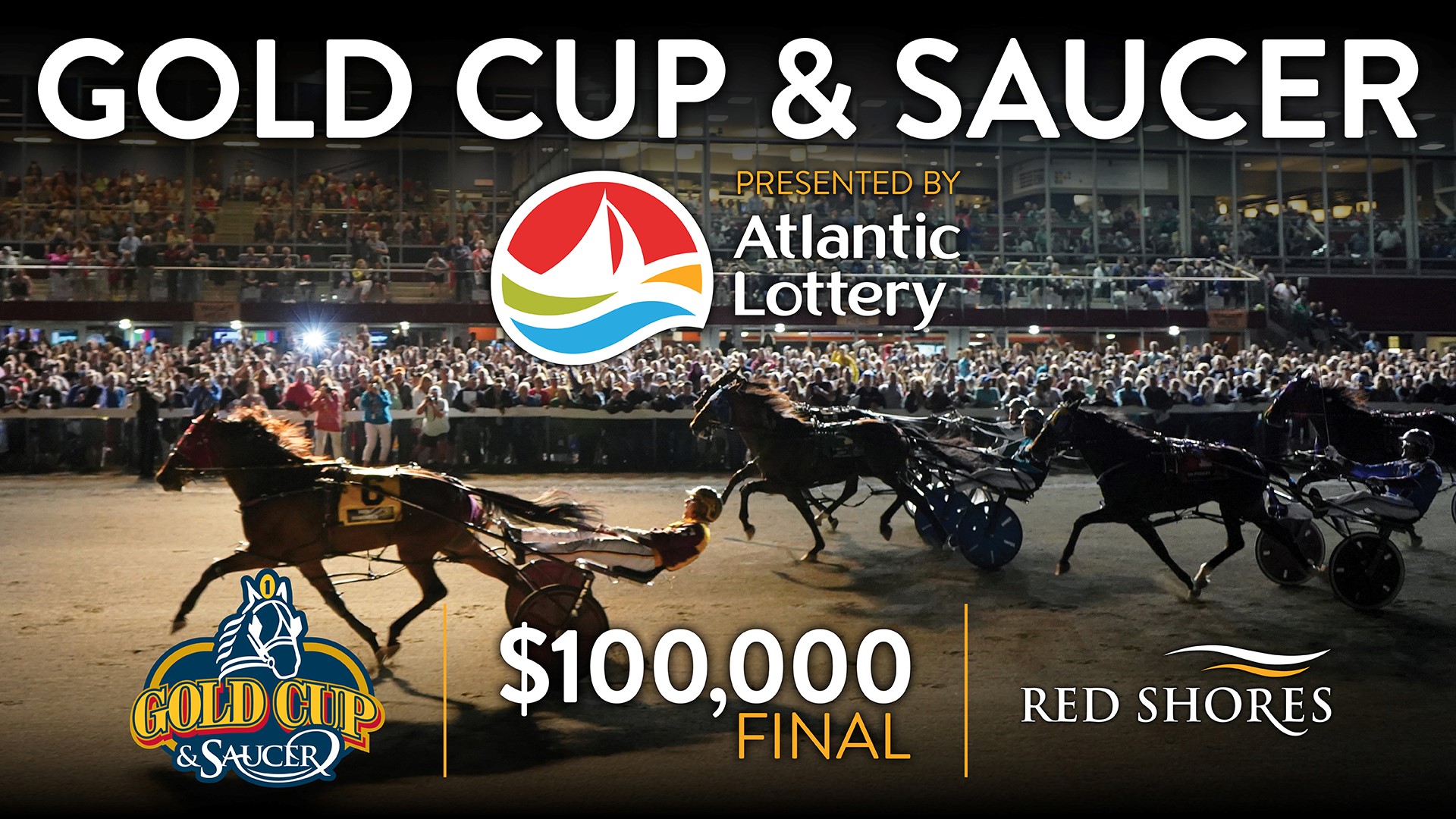 An Island Tradition for over 60 Years!
Each August, Red Shores at Charlottetown Driving Park is the home of one of the major entertainment attractions in Canada – The Gold Cup & Saucer. The fastest horses and the best drivers in all of Eastern Canada converge at the Red Shores for 11 racing programs over9 days. The Gold Cup & Saucer dates back to the early 1960's and has become known as one of the most prestigious races in harness racing.
Join us this year on beautiful Prince Edward Island as we will celebrate the 63rd running of The Gold Cup & Saucer. Be sure to check out all of our live race dates and world-wide broadcast dates by visiting the racing link or live broadcast link on the main page.
Make plans to be here and watch history be made as the horses and their drivers walk past the spectators as the Island hymn is played to a packed house. The lights go out and the horses and their drivers are introduced to the thousands of fans one by one under the spotlight as they make their way in front of the grandstand. At two minutes to midnight, the famous call to the post is heard and the horses and drivers get ready to compete in one of the best shows in racing: The Gold Cup & Saucer!
Red Shores Player Portal
Post Times, Race Day Broadcast, Programs, Race Replays, and more
Covered Bridge won the 64th Gold Cup & Saucer $100,000 Final, presented by Atlantic Lottery, with driver Jordan Stratton, and trainer Jeff Gillis, for owner Mark Ford in 1:50.3 on Saturday, August 19th, 2023. Covered Bridge was represented by Gold Cup Ambassador, Lily Hickey. 
Gold Cup Week – Frequently Asked Questions
1. Where can I park?
Parking is available in the parking lot across from our Paddock area, on Park Street.
2. Is there an admission fee?
Old Home Week will be occurring on and around the Red Shores grounds this year and as such, there will be a fee to enter the grounds during Gold Cup Week.  Reservations are required to gain access to Top of the Park, Turfs Bar & Grill, and Trackside Patio; however, all other areas are first come, first served.
3. Can I bring my own chairs?
Yes, guests are permitted to bring their own lawn chairs.
4. When can I arrive to view the races Trackside?
The Tarmac/Trackside area will open one hour and 30 minutes prior to post. Guests are encouraged to arrive early as space is limited and will fill up quickly.
5. Where can I find race programs?
Race programs will be available for sale from the program sellers, located at the entrance of the Trackside/Tarmac area. Race programs are also available to view at redshores.ca/racing
6. Where can I purchase pari-mutuel tickets?
Seller stations will be set up in all areas for guests to purchase wagering tickets. You can also wager online at HPIbet.com
7. Where can I purchase food and drinks onsite?
Food, drinks, and merchandise can be purchased from the designated vendor areas on the Tarmac as well as at Red Shores' restaurants.
8. What are the hours of operation for the Casino?
Casino Hours of Operation:
Sunday – Wednesday: 11:00am-1:00am
Thursday – Saturday: 11:00am-2:00am
Table Games Hours of Operation:
9. Is this a 19+ event?
All ages are welcome to view the races; however you must by 19+ to wager or purchase alcohol.
10. My question wasn't answered. What now?
If you have further questions, you can contact us here: redshores.ca/contact
RACE OFFICE WINTER HOURS (FEB-APRIL)

Tuesday - Friday: 8:30am - 4pm
Learn more
RACE OFFICE HOURS
Monday - Friday: 8am - 4pm
RACE DAY IN CHARLOTTETOWN
3 hours prior to post time
RACE DAY IN SUMMERSIDE
2 hours prior to post time
Red Shores Racetrack & Casino at Charlottetown Driving Park
CDP - Est. 1888
58 Kensington Road
(attached to Eastlink Centre)
Charlottetown, Prince Edward Island
Canada
Phone: 902-629-6634
Phone: 902-629-6636
Please note the Standardbred Canada Representative will not be available during the Monday-Friday hours and is on-site during Race Days only.
All stake payments, transfers, memberships can be completed online or by calling Standardbred Canada directly.


Red Shores ©2006-2023. All rights reserved.
You must be 19+ to purchase, play or redeem ALC products.